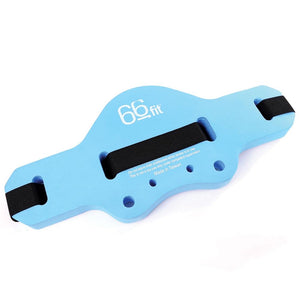 Enjoy the benefits of hydrotherapy with confidence.
66fit Aqua Floatation Belt provides full lumbar support in the water and has been designed to be used for aqua aerobic exercises like aqua jogging and under-water non-weight bearing exercises.  Helps to reduce stress and minimise impact on the joints.
The 66fit Aqua Floatation Jogging Belt is widely recommended for post-surgery rehabilitation but may also be used to help non-swimmers taking part in aqua aerobic exercise to gain in confidence.
Manufactured from lightweight EVA foam, this swimming support is comfortable to wear, easily adjustable and features a handy quick release buckle for your convenience.
Specifications
Colour: Blue
Dimensions: 64cm x 30cm x 3.5cm
Material: EVA Foam
Packed Weight: 0.45kg

Made in Taiwan